Video Production
Animation and Line Expression
Instead of explaining the message you want to transfer with articles, tell them with line animation, make a difference in your product presentations, presentations and trainings.
Training and Promotion Videos
Professional video shooting, 3D Computer Animation, Line Animation or all together. Describe your training and e-learning content from start to finish or in part with video.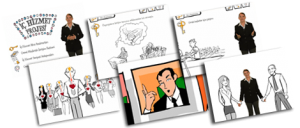 3D Modeling
Design of objects, characters and environments that can be used visually in trainings and promotions.
3D Animation
Add animations to your trainings and presentations with character animations and animated narratives!